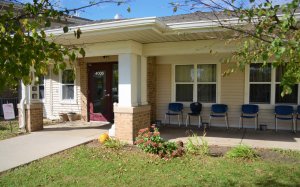 Safe Haven is a day shelter for adults with mental illness on Madison's east side.  Shelter guests have access to two meals per day, showers, laundry, bus tickets, mail, and phone services.  Safe Haven also provides housing-focused case management and crisis stabilization services funded through Medicaid.  Staff specializes in building rapport with vulnerable individuals who may not otherwise engage in mainstream services.
In addition to the daytime drop-in shelter, Safe Haven has 14 single room occupancy units of permanent housing with case management.  These rooms are filled by individuals with mental illness who have used Safe Haven day services.  Residents continue to have access to day services, and may be connected to Porchlight's Crisis Stabilization program in order to address acute crises and to promote recovery and housing stability.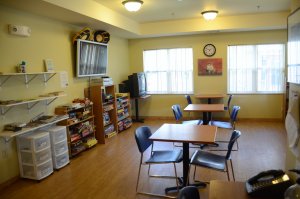 Safe Haven has been in operation since 1997, and was supported largely by HUD funding through 2017.  Many organizations and individual donors led the charge to keep Safe Haven open in 2018, and Dane County contributed $100,000 to this effort.  However, Porchlight is seeking long-term sustainable funding to continue to provide critical services to this vulnerable segment of the homeless population.  You can help this program stay viable by designating Safe Haven when you donate to Porchlight.
Hours & Eligibility
8:30am – 6:00pm every day of the week, excluding holidays unless otherwise posted
To be eligible for services, guests must provide documentation of homelessness and mental illness.  Intake appointments take approximately 30 minutes and are scheduled on a drop-in basis; guests need not call ahead.
Safe Haven is located on the Nakoosa Campus at 4006 Nakoosa Trail, Madison, WI 53714.
For more information, staff can be reached at (608) 241-9447 ext. 10.
Links & Resources